The Riksbank raised its policy rate by 50bp to 3.50% at today's meeting, in line with
Nomura's and the majority of other forecasters' expectations.
•Its policy rate projections were revised up to a terminal rate of 3.65% from 3.33% in
its last Monetary Policy Review (February). Still, this is dovish because it is below our
prior expectations that the Riksbank would raise rates to 4.00%. The Riksbank said
this implies it will raise rates by 25bp at its June or September meetings.
•The Riksbank revised up its core inflation forecasts, in line with our expectations. In
combination with the fact that the policy rate was raised by less than we expected, we
think this signals a changing reaction function for the Riksbank's executive board.
Perhaps its focus is shifting more towards growth and housing concerns.
•In response to today's announcement we have revised our policy rate view to one
single 25bp hike at its June meeting , bringing the official rate to a terminal level of
3.75% by June. However, there are clear risks of a further 25bp hike at its subsequent
meeting in September.
•The Riksbank raised its policy rate by 50bp to 3.50% today, as we and almost all other
economists surveyed by Bloomberg expected. However, it surprised us to the dovish side,
when it only raised its policy rate forecast to a peak of 3.65% from 3.33%. We had
expected strong core inflation since the February meeting to push this forecast up to
4.00%. It is worth noting that the Riksbank sees considerable uncertainty surrounding this
forecast and it may still raise rates to 4.00% if inflation proves to be higher than it
forecasts.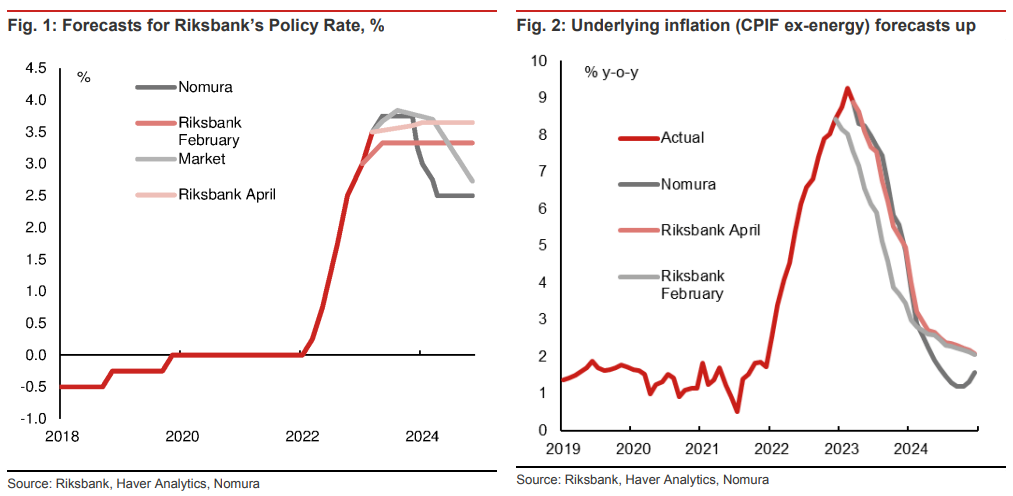 Why we look to have been wrong about another 50bp hike
It looks like the reaction function of the Riksbank has changed. In the Monetary Policy
Report, the core inflation forecast was raised higher, as we expected (Figure 2), but this did
not trigger as large a reaction to the policy rate as we expected. It seems that the Riksbank
is less concerned about high inflation and perhaps its focus is becoming more influenced by
growth and housing concerns.
Part of this reaction function adjustment can probably be explained by one man, Henry
Ohlsson. He resigned from the Riksbank's executive board in March and did not contribute
to this policy decision. He was widely seen as the most hawkish member of the executive
board and it was said that he favoured doing more on inflation at "basically every meeting".
The executive board is very small (now only five members), so having one fewer hawkish
vote will have a big impact. Also, the mere fact that Ohlsson's hawkish voice was not heard
in the meeting room may have encouraged other members to be more dovish. We will get
more information on where the balance of opinion lies from the Riksbank minutes due to
be published on 9 May.
We also underestimated the effect of the SVB fallout on the Riksbank's decision-making
process. While it said in the MPR that the spillover effects to Sweden would be limited, it also
said that SVB means the degree of monetary tightening is likely to be smaller.
Inflation is obviously a key input into the Riksbank's reaction function. It is true that the
language – that inflation remains way too high – has been retained, but the Riksbank is more
optimistic that the drivers of inflation are weakening. Governor Thedeen said in the press
conference that the risk of a wage-price spiral has decreased (source: Bloomberg) and in the
MPR we believe the Riksbank took reassurance from the fact that inflation expectations are
stable and around its forecast.
Specifically the Riksbank highlighted the wage deal struck by the industrial sector unions for
a 7.4% pay rise spread across two years. While this is a strong number, we believe it
provides certainty for the Riksbank and limits the risk of a wage-price spiral. We are
supportive of the Riksbank's view of inflation (that it will not be persistent), but think it could
fall even faster as the economy weakens and demand forces pull inflation down below the
2% target (see Fig. 2).
Our new base case is for one further 25bp hike by the Riksbank at its June meeting, bringing
its terminal rate to 3.75%. Inflation will likely remain too high by this point, although the
direction of movement should be reassuring for the Riksbank. We believe, however, there
are potentially upside risks for the September meeting with a further 25bp hike possible. The
Riksbank expressed a preference for smaller movements in policy rates, stating that "after
the April meeting there is scope to adapt the policy rate in smaller steps than during the past
year" (source: Riksbank). Hence, we now think a downshift from 50bp to 25bp hikes is likely.
We expect cuts to begin quickly in 2024 as inflation weakens substantially. The Riksbank, in
one of its scenario analyses, said that cuts may begin at the start of 2024 if inflation falls
faster than expected (source: Riksbank). It views this as a rate of 1%, which is broadly what
we are forecasting by September 2024.
Why are there upside risks?
The Riksbank commented noticeably less about the krona in its April MPR relative to
February. Since that meeting the krona have moved broadly in line with the Riksbank's
forecasts. However, it did acknowledge that "if the krona were to continue to follow the
weakening trend of recent years, monetary policy would most likely need to be tightened
more than was now assumed in the forecast" (source: Riksbank). We are forecasting the
krona to weaken further, potentially reaching 12.00 by end-2024 (see here ). If this
materialises there may be pressure on the Riksbank to hike more.
The Riksbank stated that credit conditions have tightened significantly since the collapse of
SVB, suggesting less tightening by the central bank is necessary. If banking stress eases
this may require the Riksbank to do more to tighten the slack.
Finally, the Riksbank only meets five times a year, so a 25bp hike per meeting is not
equivalent to a 25bp hike by other central banks such as the ECB and BoE. If inflation is
stronger than the Riksbank expect it is likely a 25bp hike will not be sufficiently strong.
Balance sheet policy
The Riksbank decided to keep its balance sheet policy unchanged in line with our
expectations. It plans SEK3.5bn in active sales per month in addition to full roll-off.