Cloud services and license support are the key drivers of Oracle's revenues in 2022. That's according to a Stockapps analysis of the firm's Q4 fiscal year 2022 financial results. The segment contributed $7.6B of the company's $11.8B revenues in that period. That comes to 64% of the tech giant's earnings.
The company's cloud services and license support Q4 revenues grew 3% from their Q4 2021 figures. Oracle's cloud license and on-premise license segment followed the former in the second place with revenues of $2.5B. These had also grown 18% compared to the Q4 2021 returns. Meanwhile, the hardware and services divisions netted Oracle nearly $1.7B after each contributed over $800m.
StockApps' Edith Reads has been tracking Oracle's 2022 revenue and says, "Oracle has seen an opportunity in the growing demand for cloud infrastructure. It is therefore taking on the established players in the space with its unique product offering. The firm's cloud business is entering a stage of explosive growth. So that's increasing Oracle's bullishness about its ability to draw new customers while eating into the established players' base."  
Software expansion drives Oracle's cloud infrastructure
Safra Catz, CEO of Oracle, told investors that software growth was the driving force of the company's Oracle Cloud Infrastructure (OCI). Customers of its Fusion and NetSuite platforms are increasingly purchasing OCI.
She adds that there has been a shift in OCI's database customers to self-service. That has eased the serving of its Fusion customers. Again, Oracle expects its cloud revenue to grow significantly in the fiscal year 2023, notwithstanding the current macroeconomic backdrop.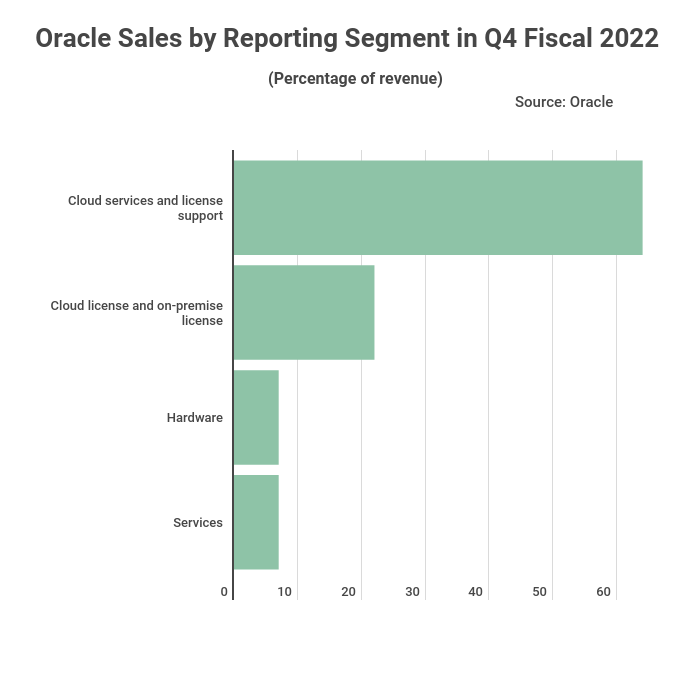 Investors well-received Oracle's earnings following the day the stock market fell. Oracle's stock hit a 16-month low, but its shares rose 13 percent in extended trading.
Oracle acquisition of electronic healthcare company Cerner
The acquisition of Cerner, a global producer of electronic health records, was a discussion that increased Oracle's debt by $15.8 billion.
On an earnings call, Oracle CEO Safra Catz showed that the company looks at its entire product line. The reason is to see if there are any places where they can use Oracle technology instead of third-party solutions and then migrate them to OCI.
Oracle expects customer satisfaction to improve because of these initiatives. In addition, they see it will cause a more secure and innovative product selection for customers. While these adjustments are being implemented, they remain confident in their capacity to grow Cerner's top and bottom lines quicker than they could on their own.
Recently, an ex-Oracle executive who now provides licensing advice has warned that Oracle will try to increase income from Cerner. They will terminate underperforming contracts and use end-of-support as leverage to increase payments.
Oracle is playing catch up to cloud industry leaders
To put Oracle's cloud growth in perspective, according to April estimates from tech research firm Canalys, the cloud industry expanded 34 percent in Q1 2022 to reach $55.9 billion.
The study reckons that the three leading corporations in cloud service, Google, Amazon, and Microsoft increased their sales by 42 percent last year. As of now the three own 62 percent of the market. As of 2021, Synergy Research predicted that Oracle's share of the worldwide cloud infrastructure market would shrink to roughly 2 percent.