Tech firms have been dominating the headlines in 2022, but unfortunately, not for positive reasons. Layoffs have been rampant throughout the tech sector, and few companies have escaped unscathed.
Despite this trend of layoffs and downsizing, Apple has gone against the trend. According to TradingPlatforms.com, the tech giant's employees have increased by 20% in two years. This is in stark contrast to other large tech companies such as Microsoft, Twitter, and Netflix, which have all made significant layoffs this year.
The increase in Apple's total number of employees is significant compared to their numbers from the end of 2019. At that time, the company had around 137 thousand full-time equivalent employees, but as of  2022, it had jumped up to 164 thousand. This means that in the span of two years, Apple had hired around 27 thousand more full-time employees.
TradingPlatform's financial analyst, Edith Reads, commented on the data saying," It's impressive that Apple has been able to maintain such strong growth even during a time when the tech industry is struggling. This reflects the company's commitment to innovation, and its ability to remain resilient in the face of adversity. Apple's success is a reminder that despite an uncertain economy and difficult times, there are still companies out there growing and thriving."
What Is Driving Apple's Growth?
Apple's growth can be attributed to the success of its product line, which ranges from personal computers to tablets and smartphones. The company has seen double-digit growth in iPhone sales since 2018, with 218 million units sold in the fiscal year 2018. Additionally, Apple's iPad, a line of tablet computers, is considered one of the very first successful ones
This growth can be attributed to Apple's focus on long-term projects like innovative products and services such as their subscription streaming service, Apple TV+. Investing in these initiatives ensures continued success for the company, even amid a tumultuous tech sector. Apple is the most valuable technology company in the world, with a value of over $2 trillion in 2021.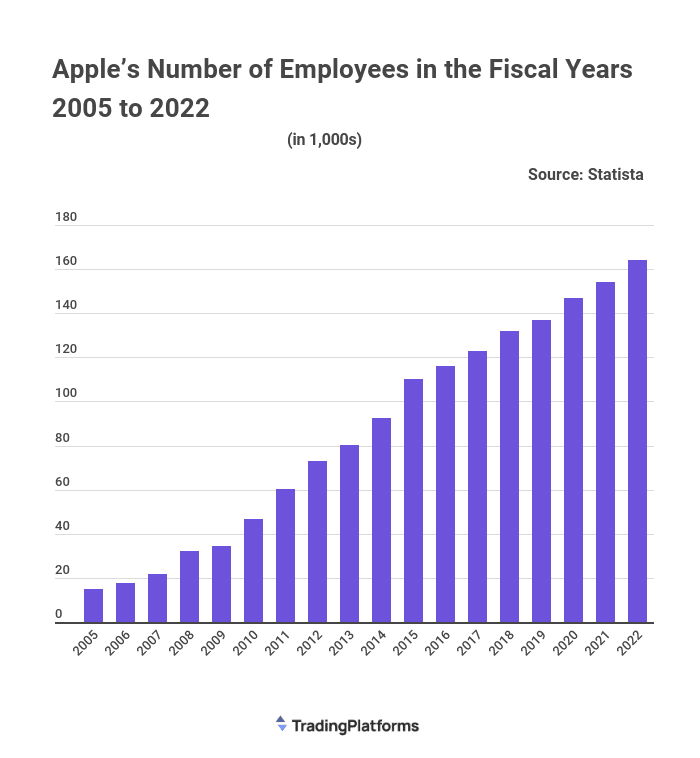 Apple's Festive Spirit!
Apple is also providing the perfect gifts for your loved ones this holiday season. Customers can explore Apple's Holiday Gift Guide online and find amazing products to keep them connected with friends and family during the holidays. With easy shopping options, customers can discover and purchase Apple's latest products stress-free this festive season.
Apple's commitment to innovation and employee investment is paying off. With the new hires, Apple is poised for further growth in the coming years, cementing its position as one of the tech industry's leading powerhouse companies.