When discussing successful brands worldwide, Apple is one of the leaders. Apple has stayed true to its brand since its inception in 1976; hence it's no surprise the company still calls for global anticipation and excitement whenever it releases new products. 
According to Tradingplatforms.com, Apple has seen a remarkable profit of about $100 billion, 73% up from 2020 figures. The site's financial analyst, Edith Reads, comments, "This is a testament to its innovation and technological advancements throughout this period. To attain these numbers, Apple has employed various strategies such as optimizing its product range, enhancing the customer experience with software updates and marketing campaigns, and focusing on services like iCloud storage and music streaming offers."
Why Has Apple Seen Great Success In 2022?
Over the years, Apple's innovations, from the iPad to the iPhone and the Apple Watch, have gained popularity worldwide due to their high quality. Apple is reaping massive profits just from the sale of these products. Apple earned $205 billion from iPhone sales in 2022. The new iPhone 13 models significantly contributed to these sales. Apple also introduced the MacBook Air and the MacBook Pro, with new M2 chips, in June 2022. The Macs raked in $40 billion in 2022.
Apple uses Unique Value Proposition to market its products. This marketing strategy continues favouring Apple's products. Apple's advertising approach is simple as they let their products speak for themselves, attracting the attention of many buyers who value outstanding quality and design.
The company continues to offer the best customer experience, hence its skyrocketing sales. Apple's products target middle-class and upper-class people who enjoy Apple's storytelling approach. The customers feel the shared stories connect with them and genuinely portray their interactions with technology.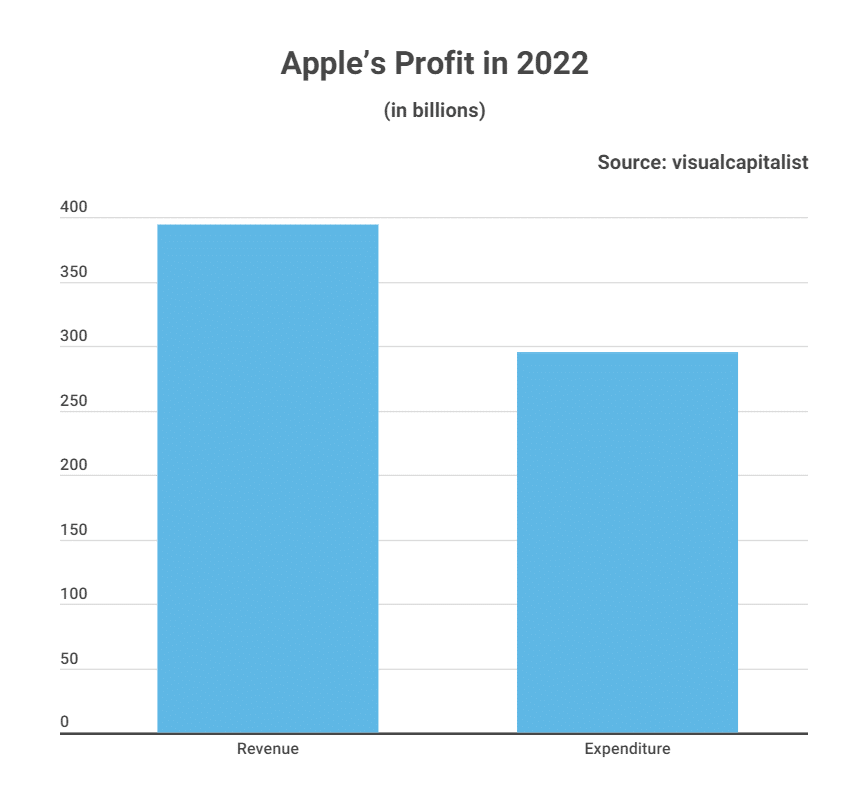 Downsides Of Apple
Apple depends on the iPhone and iPad to bring in most sales. Apple has focused on these two products, and they should attempt to invent more rather than focus on the two. In 2022, the iPad recorded a drop in sales of around 10% compared to 2020.
Additionally, Apple is still receiving criticism for its premium pricing. Undeniably, Apple's products test how much one is willing to pay to access a suitable device or software. Despite the complaints, Apple still stands tall with its growing number of customers.